23 Ingenious inventions for 2023
New years are an appropriate time to look back, for
New Year's resolutions
and, of course, predictions for the future.
So here's our not-so-serious prediction for "23 Ingenious Inventions for 2023."
By the end of the first week of January, all computers will suddenly be able to make coffee.
Due to the high losses at Twitter, Elon Musk is asking his employees to build new servers out of cake in the future. For Valentine's Day, all cakes must have a little heart. He succeeds in turning the cake and users come back to Twitter in large droves.
In the wake of the cake turning, to keep users from spending too much time on social media, there will be an app from Apple that will constantly send users pop-up messages with pictures of cute puppies.
Microsoft is following suit, launching a new kind of computer made only of stuffed animals and colorful lights that you can hug to operate.
Neurallink is forging ahead, launching an implant in early March that is able to tune into the user's thoughts and provide them with all the information they need without them having to explicitly request it.
To help users understand their dreams, Apple featured an app in the App Store that is capable of interpreting them.
Our partner cPanel brings a new operating system for old phones that constantly updates and optimizes itself, so the user never has to update again, nor does he need a new phone.
Apple is concerned about the mental quantum leap of its competitors and announces that it is working on an app that helps users organize their thoughts and work in a more focused and productive way.
Since many stuffed animals keep falling over, Microsoft's corporate headquarters is overloaded with returned stuffed animals. On April 01, the group management is very annoyed and asks the developers to work until the end of the year on a new operating system that is able to repair and optimize itself, so that the user never has to call a technician again.
An app appears in the Playstore that helps users improve their posture and behavior by reminding them to stand up and stretch regularly.
Apple has been secretly working on a killer feature. The new operating system will be able to recognize the user's emotions and suggest appropriate music in all apps.
Google doesn't want to be at the back of the run on our minds either. Therefore, there is an app that assists users to achieve their dreams by helping them take small steps towards their goals.
Artificial intelligence is used to develop a computer that improves and optimizes itself.
As a first intermediate step, Microsoft is releasing a new operating system that clearly explains to users why their computer is crashing and helps them fix the problem.
There will be an app that helps users tidy up their rooms by helping them create an organized to-do list and categorize their items.
IBM is bringing a new operating system that fully adapts to the user's preferences and interests and makes recommendations accordingly.
Apple wants users to still be able to afford iPhones in the future due to its high product prices, so it is releasing an app that helps users stay on top of their finances, track their spending and income, and create a budget that is guaranteed to produce a plus so that all users are guaranteed to be able to buy the latest iPhone.
A program is being developed for the Linux Shell, whereby system administrators can better relax and regenerate by suggesting relaxation exercises to him, for example.
Google recognizes that there is a world outside of technology, so it's developing an app that helps us nerds discover new hobbies and interests by making relevant recommendations and helping us learn new skills.
The latest generation iPhones will be capable of independently adapting to the user's voice and tone of voice and providing appropriate responses.
A new operating system called Klicki-Bunti is launched by Microsoft. It can help users focus better and concentrate on important tasks by, for example, playing them background sounds or showing them a to-do list when the user is aimlessly surfing the web.
Just before Christmas 2023, there is an app for one person: Elon Musk. She helps him make new friends by making appropriate suggestions and helping him have interesting conversations.
Coming at the end of the year is an app that helps users get to know themselves better and identify their strengths and weaknesses by asking them specific questions and helping them move forward in pursuit of their goals and dreams.
23 Ingenious inventions for 2023 – and everything comes differently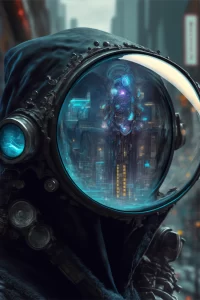 Of course, we all cannot see into the future, even though annual forecasts are very popular at the beginning of a year. We've tried to make the outlook as unrealistically close to reality as possible with our 23 ingenious inventions for 2023, but since things always turn out differently than planned, we wouldn't be surprised if one or two predictions do come true after all. What do you think? Write a comment and immortalize yourself with your future prediction!